Benefits
Increased productivity by about 150%
The use of these platforms makes working in orchards less stressing and more productive.
Compared with hand picking, the harvested fruits will have much less damages and bruises, which would mean much less fruit of second quality.
The average operating life of our picking platforms is of at least 20 years, but we can count a large number of picking platforms still at work after 30 years.
Normally a machine is paid back in 3 to 5 years, this counting not only the bare cost of the implement, but also all the servicing, fuel and labor. In other words, purchasing an N. Blosi can be a good investment.
Options
All our platforms, can be equipped with compressor for operating scissors and other pruning equipment, front / rear forklifts and rails for handling the bins, stop-and-go switch for facilitating the operations, work lights for a 24/24 use and many other options and accessories that would customize the machine and satisfy any need of the grower.
Uses
The self-propelled platforms of N. BLOSI were designed for trellis orchards of different sizes and types (e.g. apples, pears, peaches, plums, prunes, apricots, kiwi, etc.). Different models and outfits make the N. Blosi platforms very versatile to satisfy the needs of orchards all year around. In fact they can be used not only for harvesting, but also for pruning, thinning and maintenance works such, for example, placing hail nets.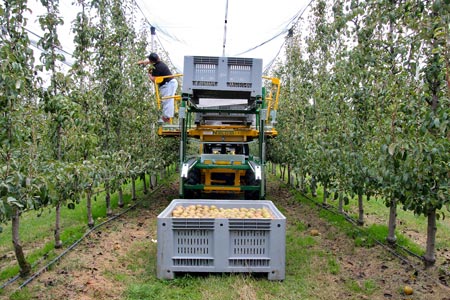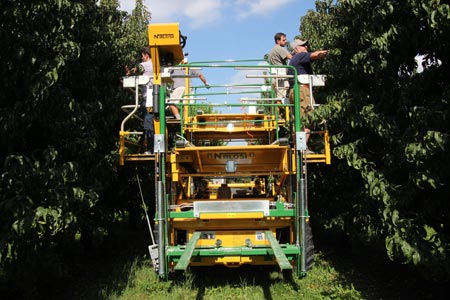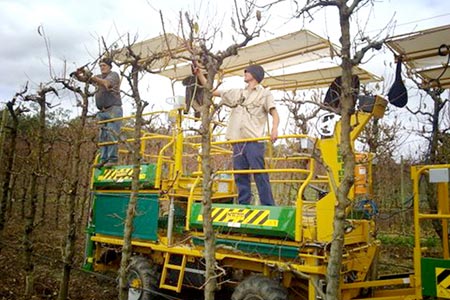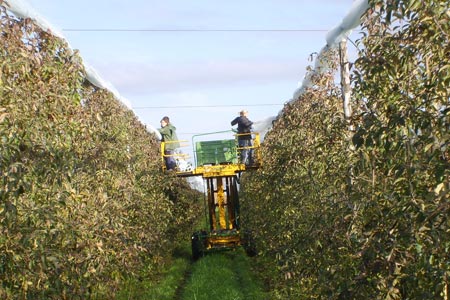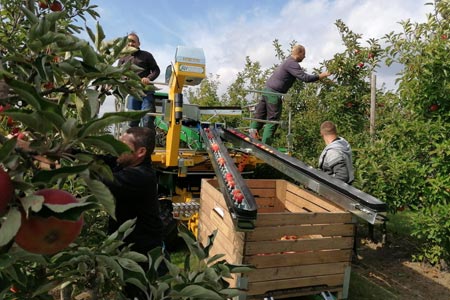 Our machines at work
Harvesting conveyor N.Blosi at work
N.Blosi - Machines at work
N.Blosi auto 2S par velocità 004